The taboo-iest of all taboo topics on aging in place… The Grab Bar!
Why Are Grab Bars So Scary?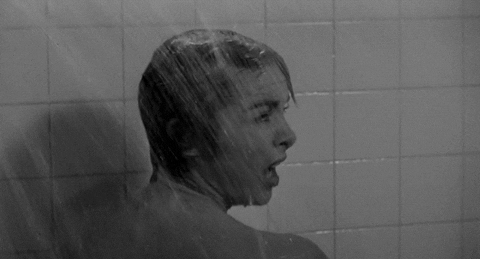 Grab bars scare people because they conjure images of disability and loss of independence. When we start to think about a grab bar we have transitioned from bars that mean fun to bars that mean feeble.
Here's the thing though, when you do need them you don't want to be in a situation where you can't have them. If you're planning on living in your home for the long haul you go from a position of "it would be nice to have grab bars" to "I need grab bars, like yesterday." That minor difference can literally mean life or death…
… and THAT is the really scary part!
Statistics on Falls
Hang onto your hats because the science nerd is talking stats… As I have mentioned before, in my previous life I was a nurse and I read and DID a lot of research in that field. I was a bona fide nerd. If you're feeling super sassy you can check out one of my nerdiest studies here. That being said, I know quite a bit about the effects of aging on the human body and now that I have interior design education, I know about how aging effects your interaction with the built environment, a.k.a your house.
One of biggest home health issues is falls. Did you know:
Up to 1 in 3 People over 65 fall every year
80% of those falls occur in the bathroom
Every 11 minutes an older adult is treated for a fall in the emergency room
Every 19 minutes an older adult dies from a fall
Falls are the LEADING cause of fatal and non-fatal trauma in older adults?
1 out of every 5 falls causes serious injury
The most common cause of traumatic brain injury
Hip fractures from falls after age 65 double your mortality rate
So What?
Great question! You're a natural researcher! That's question that all good scientists should answer. The big so what here is falls are bad for your health and you don't want to think about that after you have fallen and have been hospitalized. I hear you saying, "BUT I'm only 50 (or 60 or 70) I don't want my house to look like a nursing home!" I hear you.
Loud and clear.
I have great news is that you don't have to put grab bars in your house the next time you remodel! There are things you can do to prepare your home for grab bars in the event that you need them. Let me start by giving you a quick primer on how grab bars work.
You need Structure
For a grab bar to properly function it should be firmly anchored into the wall. That means that it should be screwed into STRUCTURE. You cannot screw a grab bar into drywall. Not even if you use an anchoring device. And definitely not through tile. Have you ever pulled too hard on picture or a shelf that was held in place by a drywall anchor? The picture comes down with the anchor and usually takes a chunk of drywall with it. Not a good look.
What about studs? Well, theoretically, you could do that, but there are a couple of issues that make this difficult. 1) Good luck finding a stud through the tile on the wall in your shower. 2) Studs are a maximum 18″ on center, most of the time they are less, which is likely the case in your shower. In some cases you may not have proper stud spacing to mount grab bars if you don't plan ahead.
What is the solution?
The solution is to block your walls. Blocking your walls means adding short pieces of plywood or lumber between the suds to reinforce the structural members (or studs). This type of structural support will allow you to place grab bars or other devices, such as a wall hung shower seat, where you need them, and more importantly when you need them.
That is the good news, you don't have to add grab bars to your bathroom when you're 50. However, I highly recommend that anyone who is over the age of 45 and planning a remodeling project have their bathroom walls blocked in preparation for grab bars and shower seats. You may need them down the road and when you're retired you may not feel like doing a full remodel to your house.
That means, while you're ripping out tile and replacing the cementitious backer board (CBB) in your shower, have your contractor add blocking between your studs. For a shower seat at about 12″ above the floor up to about 24″ above the floor on the wall where you would like the future seat. For grab bars you will want to apply blocking about 24″ to 48″ around the perimeter of the shower AND on at least on wall beside your toilet. If you have a toilet room, have them apply it to both sides.
When the CBB goes up, your contractor will apply the appropriate finishes – tile, paint, wall-covering – and you will never know that they are there! Wait… with nothing on the surface to tell you where the blocking was applied how can you know where it is? Great question! Stud finders won't be particularly helpful in this situation. I recommend taking photographs and storing them in a physical file for future reference. You can keep them electronically as well, but you know how finicky computers are.
Still Having Negative Thoughts About Grab Bars?
It's okay. I understand. I actually have some very ugly grab bars in my shower because the family who lived here before us needed them. They are they ugly utilitarian kind and I loathe them. I cannot wait to remodel my bathroom and have them removed. They are hideous!
So why I am pushing them on you?
On a serious note, this subject is near and dear to my heart because my own grandfather died from complications due to a hip fracture. The bathroom was not set-up for grab bars and he fell after his shower. My parents saw it as a cautionary tale and installed grab bars in their bathroom, along with other safety measure that I'll cover in future blog posts. The statistics are shocking, but I think they are important. Approximately 30% of us will fall at some point after we reach the age of 65. We should do our best to prepare our homes to minimize the impact on our health.
I also totally plan to practice what I preach. When I remodel, I will block the walls and when the time comes, I will reapply grab bars, but my grab bars will be stylish and won't look institutional. With so many options on the market, it's just not necessary to buy the old school nursing home style.
This bar by Delta is a great traditional or transitional style and comes in 5 different metal colors.
The Kohler Purist grab bar is a sleek contemporary style that would look great in a variety of bathroom styles.
The Brizo Modern grab bar would look great in modern and contemporary styled bathrooms.
In the 90 Degree collection, Moen offers a grab bar with a great transitional look that will work well with many decorative styles.
There are also toilet paper holder that are structured to offer extra support for someone who is falling. That's the funny thing about falling… We usually grab anything that is available. So, it is recommended that you also properly anchor your towel bars and wall-mounted toilet paper holders for extra support. This Delta Decor Assist toilet paper holder below is a great example of a beautifully disguised grab bar.
Parting Thoughts
If you look up building codes or ADA guidelines for grab bars they're going to tell you exactly where grab bars should go, what size they should be for each position, how many there should be, and even the diameter of the bar itself. That's great, because it means that when you see "Meets ADA Requirements" on the product specifications, you can rest assured that it's the correct product. However, if you followed the guidelines you might find your walls covered in grab bars and again, your home would look more like a hospital room than your home.
The ADA guidelines and building safety codes are made for commercial buildings and they are supposed to cover a wide range of abilities to meet the safety needs of the general public. So, in a hospital room or an office building, they must have every single grab bar specified exactly how the code has described. In your own home that is not the case. You can customize the grab bars that you need and put them where you need them. I highly recommend doing this with the assistance of someone trained to provide this type of advice. If you are looking to add grab bars, you may want to consult with a Certified Aging in Place Specialist or possibly a Physical or Occupational Therapist to determine appropriate placement of grab bars to meet your specific needs.
I hope I have shifted your thinking about safety and how you will use your home as you age. If you learned something or have further question, please leave a comment below.
There are so many things to consider when you prepare your home for retirement. It can seem overwhelming and at the end of the day you still want your home to look stylish. If your desire is create a chic, timelessly beautiful home that will support you throughout your retirement, then you will want to start by downloading your copy of "Designing a Retirement Ready Home" checklist! This list will help you make remodeling and design decisions effortlessly!
NEXT WEEK – How Much Should I Spend on Accent Chairs?
**This post contains affiliate links. I may receive a small commission if you click on the links and/or make a purchase using the link. Thanks in advance for your support!**